Enticing cover art for this novella makes it more than eye catching.
Flippin' Pages Book Reviews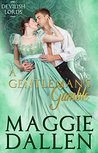 A Gentleman's Gamble by Maggie Dallen
Tracy's rating: 4/4.5 of 5 stars
Series: Devilish Lords, #3
Release Date: August 21, 2018
Jeb Cleveland and Eliza Beaucraft have a past, two years ago Jeb hit rock bottom and almost took a wager that would have cost him is honor and a young girl's reputation. But he realized his mistake and walked away – straight into Eliza, the sister of the woman he was going to wager over. Eliza tells Jeb in no uncertain terms exactly what she thinks of him and warns him to stay away from her sister.
Two years later, Eliza has a problem and now it is her turn to gamble. Her father wants her to marry his disgusting business partner, Eliza believed that she was well on her way to being a spinster and was fine with that. She is not a beauty, tends to be prickly…
View original post 446 more words