Looks like an interesting read!
Flippin' Pages Book Reviews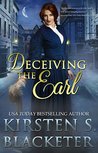 Deceiving the Earl by Kirsten S. Blacketer
Tracy's rating: 4 of 5 stars
Series: N/A
Release Date: May 10, 2018
Adele Prescott is the sole survivor of a fire that claimed her entire family, rescued and nursed back to health by loyal servants, she is now on a quest to find out who was responsible for the death of her loved ones. Disguised as her maid, Anna, who sadly perished in the blaze, Adele takes a position as housemaid to Christopher Underwood, the Earl of Dorrington, her father's friend, partner and her prime suspect.
Christopher rues the day he ever found the mysterious piece of metal that has destroyed his life. He has tried to make amends by hiring all of the Prescotts displaced servants, but he wants to do more – he wants to know who set the fire that destroyed their research and the metal itself. When he…
View original post 264 more words